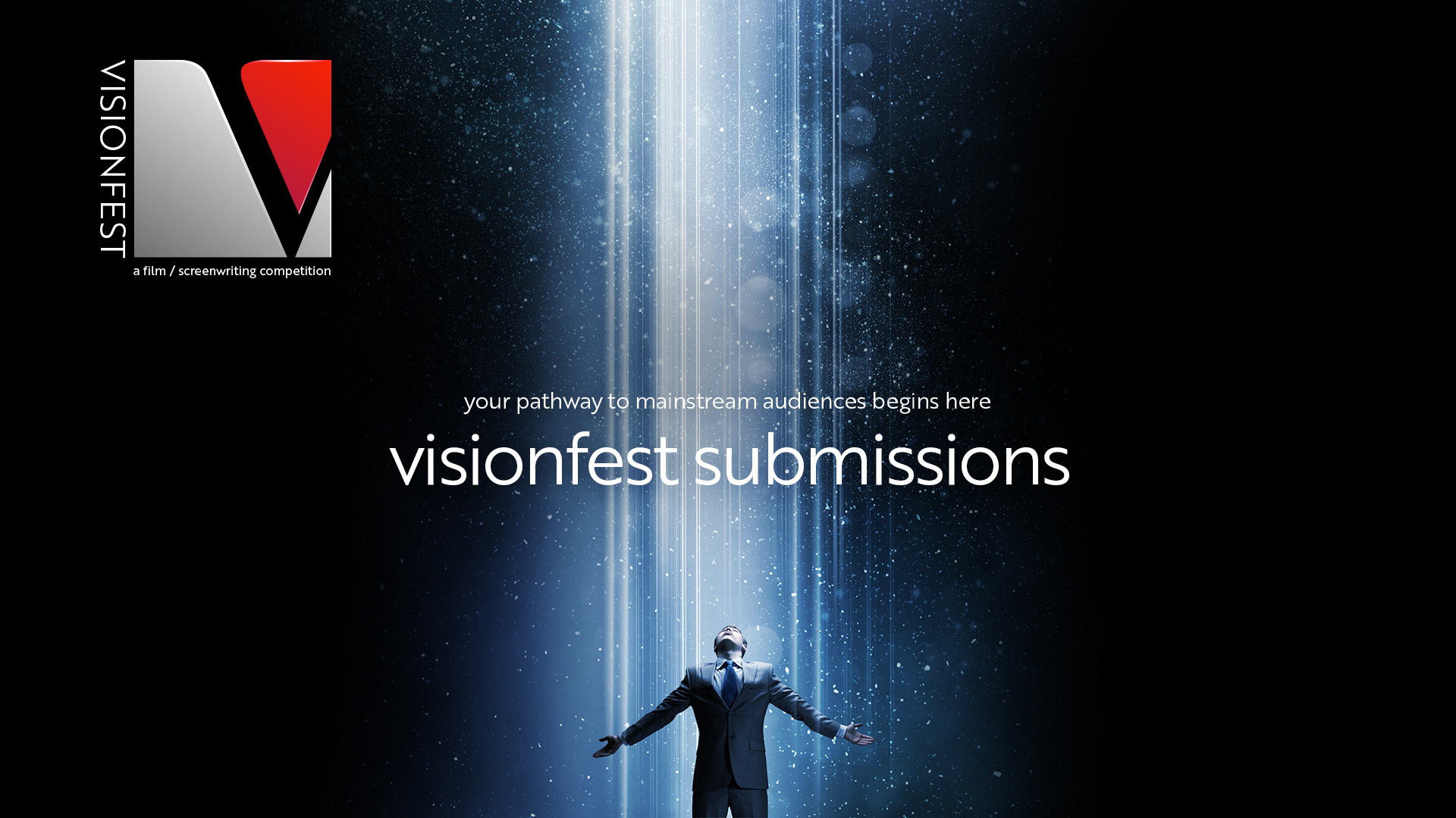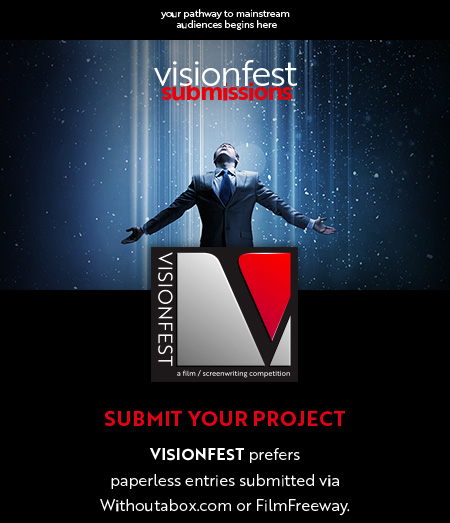 SUBMIT YOUR PROJECT TODAY!
VISIONFEST prefers paperless entries submitted via Withoutabox.com or FilmFreeway.
Withoutabox and FilmFreeway provide cost-saving, online entry to major film festivals throughout the U.S. with one master entry form, allowing you and us to enter your film more quickly and with greater accuracy. This method is free and easy.
Members who choose to join Withoutabox or FilmFreeway also get $$$ off their Entry Fees, plus the advantages of Extended Deadlines and Online Press Kit submissions.
SPONSORED PRIZE for the 2018 SCREENWRITING COMPETITION:
In addition to Commemorative Certificates presented by the Domani Vision Film Society, VISIONFEST is partnered with InkTip, which will provide the following prizes to the top three winning feature scripts and top three short scripts:
- InkTip Script Listing: A listing of your script on InkTip so that producers and reps can find you.
- InkTip Magazine: Publication of your logline in InkTip's bi-monthly publication sent to 4000+ producers, agents, and managers.
InkTip helps writers sell their scripts and get representation. Producers have made more than 200 films from scripts and writers they found through InkTip.
***
Awards
Our Festival Jury reviews the submitted works through private "password protected" screenings available exclusively to them, prior to the start dates of the film festival. Professional industry readers review all submitted scripts and VISIONFEST will announce up to 10 Finalists by November 30, 2018, as well as nominations for the films line-up.
All projects included in the VISIONFEST line-up will receive Official Selection laurels and will be eligible for Sponsored Prizes and Commemorative Statuette and/or Certificate Awards.
The " VISIONFEST You Really Really Like Me" Audience Award, which consists of a Statuette and a Goods/Services Prize package valued at $1000, will be bestowed upon the Official Selection with the most overall views and highest ratings.
All Official Selections of VISIONFEST will have the option to be included on the VISIONFEST Archives streaming platform hosted on howtube.com and distributed worldwide via our online partners and affiliates.
The winning Feature Screenplay and the winning Short Script will receive a cash prize of up to $500. The 2nd & 3rd place Feature Screenplays and 2 Short Script Honorable Mentions, together with the winning #1 scripts, will receive free listings on InkTip.com (exposing the awarded works to producers nationwide), as well as Commemorative Certificates.
Rules & Guidelines
FILM COMPETITION
Applicants must be over 18 years of age.
By submitting your project to VISIONFEST, you attest that:
You have ownership rights and/or written permission to submit to VISIONFEST and that your submitted project was completed after January 1, 2015.
You grant VISIONFEST permission to use excerpts of your work (including trailer/teaser/film poster/stills) for promotional purposes and, if selected, you agree to provide a completed h264 (MP4) screening file, which will be used as the sole and exclusive asset to showcase your full or excerpted work for competition and programming on the VISIONFEST website and its content streaming affiliates (including but not limited to Roku, AppleTV, etc.)
You grant VISIONFEST the right to display in-video and/or advertising via its Distribution Affiliates.
You grant VISIONFEST the rights to make the project available and viewable through mobile applications and desktop applications on computers, mobile devices, tablets, connected televisions, and other media and technology (collectively, "Streaming Services") including the VISIONFEST website and its affiliated content delivery outlets (including howtube.com, and/or on AppleTV, and Roku, collectively "Distribution Affiliates").
Your submitted work or excerpts of it will be available online within a "subscriber based and/or exclusive on demand" forum. Viewers of VISIONFEST will have to "register and sign in" to view, vote for, and review full versions of the works presented within the VISIONFEST program and/or its prior editions' archives. In other words, it's just like attending a film festival and buying tickets to see the films, except the film viewing will be done in the comfort of your own desired space and your own devices.
Entries must be U.S. made and while these may have foreign locations, the production entities must be based in the U.S. Projects may have English subtitles for portions of content that are not spoken in English, however these segments may not exceed 1/3 of the running time of the entire project.
Entry fees are paid online via our affiliated submission forums and are non-refundable.
Multiple entries are allowed with the provision that each entry is submitted with the appropriate entry fee and that it adheres to the Rules & Guidelines and the Terms & Conditions set forth by VISIONFEST.
* If selected, you may be asked to provide additional promotional content for your work, such as trailers, teasers, and cast/crew bios and/or interviews to be used exclusively for the promotion of VISIONFEST and its affiliated events (i.e. festival parties, additional behind the scenes content forums, etc.) If you live close to the New York City metro area or are traveling to it prior to the film festival dates, you may be asked to partake in a series of IRL (In Real Life) segments that will be streamed and featured on our affiliated partner and social sites.
Our VISIONFEST Jury Panel will select their favorite works in multiple categories (i.e. Outstanding Achievement in Directing, Acting, Editing, etc.), and each award recipient will receive Jury Prize Laurels, in addition to the aforementioned prizes.
VISIONFEST is a Domani Vision Film Society event presented by howtube.com.
You agree to hold VISIONFEST - Domani Vision Film Society LLC, and howtube.com harmless from, and defended against all claims, demands, costs, judgments, losses, expenses (including attorneys' fees), and liabilities resulting out of or in connection with any and all claims of third parties, whether or not groundless, based on any works submitted to VISIONFEST or on any project developed out of such works.
In connection with this promotion, you grant to VISIONFEST and howtube.com the right to use photographs, film clips, stills, artwork, and the names and likeliness of Filmmaker and the actors appearing in your Project.
The term of this agreement shall be for the duration of VISIONFEST.
SCREENWRITING COMPETITION
Screenplays must be unproduced scripts, written in English and in Industry Standard Format (feature length 80-130 pages; short form 3-30 pages).
For the Feature Screenwriting Competition, applicants must be 18 years of age and may reside anywhere in the world. Applicants must submit:
One copy of an original feature film screenplay (in digital formats only as defined within the submission forum selected), approximately 80-130 pages in length, formatted in industry standard screenplay format and written in English. (for Short Script Contest, screenplays should be between 3-30 pages)
Please note: Only original works are accepted. Submissions may not be based, in whole or in part, on material, fictional or nonfictional, produced or unproduced, published or unpublished, unless such material is in the public domain or if it was originally created and published/produced by the applicant(s), in another medium.
No revisions or updated versions will be accepted beyond the initial submission.
A completed application form and an 'entry fee' required for all entries.
Applicants may submit multiple entries, however, those must be submitted separately along with respective fee(s) for each separate submission.
Collaborative works are accepted and are treated as (1) submission, regardless of how many authors are responsible for creating the work.
VISIONFEST – Domani Vision Film Society LLC, based upon its own opinions and voting procedures, reserves the right to grant no awards if there is no entry that qualifies with sufficient merit.
The applicant(s) agree to hold VISIONFEST - Domani Vision Film Society LLC, and howtube.com harmless from, and defended against all claims, demands, costs, judgments, losses, expenses (including attorneys' fees), and liabilities resulting out of or in connection with any and all claims of third parties, whether or not groundless, based on any stories submitted to the VISIONFEST Feature & Short Script Competitions or on any screenplay developed out of such stories.
APPLICABLE TO ALL SUBMISSIONS
(whether motion picture or screenplay form)
Submitted material shall be retained by VISIONFEST - Domani Vision Film Society LLC, and howtube.com for archival purposes and reference, with any and all related compensation waived by applicant(s). Should a project be featured on the VISIONFEST website as Video On Demand content viewable only through paid subscription, then VISIONFEST will negotiate a fair and respectable revenue share with the proprietor of the featured content, based on the terms and conditions of said negotiation and agreement.
The burden of obtaining copyright and all proprietary interests for the submitted material rests solely on the applicant(s).
To the accuracy of the information supplied, any false or misleading information on the application, or any failure to comply with the rules and regulations set forth by VISIONFEST - Domani Vision Film Society LLC, and howtube.com may result in disqualification and forfeiture of any awards or cash prizes.
---
Withoutabox logos are trademarks of Withoutabox, a DBA of IMDb.com Inc. or its affiliates.